The safety of U.S. citizens is the State Department's #1 priority. That's what we always say in the Foreign Service, and we had the opportunity to prove it this week.
Last week, the airlines stopped offering flights out of the country. Thousands of private American citizens are still in the country, many of them wanting to return to the United States.
When that happens, our standard procedure is to find a way to get U.S. citizens home. We have a few different options. We can work with airlines to open new commercial flights, or we can organize a charter flight. In some (very extreme, very complicated, and very, very expensive) cases, we can work with the military. That last scenario really only happens when there is a complete breakdown in social order, and the country is on the brink of war. Things are not that bad here in Bangladesh, and no one really expects the situation to deteriorate that much.
So we went with the best option that was available to us: organizing a charter flight.
Here is a little background reading:
https://www.dhakatribune.com/bangladesh/foreign-affairs/2020/03/29/us-american-citizens-returning-from-bangladesh-voluntarily
https://www.politico.com/news/2020/03/30/state-department-playbook-stranded-americans-155832
I'm not embarrassed to admit that I am not an airline. I have no idea how to take reservations for a flight, coordinate with an airline and airport authorities, prioritize a passenger list, check people in for flights, and tell people on standby to sit down and wait for me to call them. But that's what I have been working on for the last week or so. Working with a huge team of my fellow officers, and our locally-engaged staff from the Embassy, we put in 12- to 14-hour days. We had to build a manifest by taking emails and phone calls, then calling people, calling them again, and then calling them a third time. Another group negotiated with an airline to contract a special flight. We had to coordinate with the local authorities to get permission for the plane to land. A million little details that we had to learn on the fly.
Sure, our colleagues in other countries have done this, too, but so much of the arrangements depends on local conditions. We couldn't just copy what other embassies did. We kept telling ourselves that we were making it up as we went along. The whole worldwide COVID-19 situation is so unique that no one really knows the best way to do this kind of evacuation.
Yesterday was "game day." The day of the flight. We had the airport to ourselves. All commercial flights were cancelled. We set up our check-in station. A "Solutions Center" helped people who didn't have their paperwork in order. We originally was going to call it the "troubleshooting center," but I had a big problem with using the word "shooting" in an airport. Thanks to HvG for the alternative phrase!
Hundreds of people showed up to get on the plane. Yes, some citizens got upset, some complained, some were indignant at the inconvenience, a few didn't think they should have to pay for the ticket, etc, etc. The Ambassador told me a few days ago: "We don't have the luxury of being irritated." And he was right. Our job was to project a cool, calm manner, and to try our hardest not to add to the noise.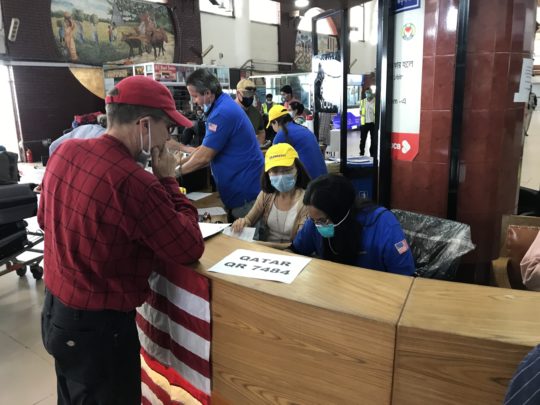 A lot of people from other sections of the Embassy came and helped out. We were able to process everyone and get them to the airline counter to check in.
At the end of a very long day, after a very long week, we got a few hundred Americans on the plane back to the United States. And that's what it's all about: being there for U.S. citizens.
This was my favorite sight:
I never want to do this again, but it looks like we will have to. As long as there are stranded Americans in country, our job is to try to get them home. We'll do our best, but I really wish commercial flights would start back up. I want to stop being the worst airline in the world.